"There aren't enough people in the US Senate who live like, think like, and look like the people they're supposed to represent. My Great-Grandma told me, "If you don't like something, go farther and do better." I'm proud to say I'm running for the Senate. Let's go farther together. – Angela Alsobrooks
By Doni Glover, Publisher
(BALTIMORE – May 9, 2023) – With Prince George's County Executive Angela Alsobrooks' entrance this morning into the Maryland US Senate race for next year political junkies, operatives, and pundits alike are about to have a field day.
Last week, Western Maryland Congressman David Trone, the owner of Total Wine & More, announced his run for the same seat being vacated by retiring Senator Ben Cardin. Total Wine & More, by the way, is America's largest independent retailer of fine wine.
In addition to Alsobrooks and Trone, Will Jawando, a Montgomery County Councilmember, is also seeking Cardin's seat.
Other names noted include Baltimore County Executive Johnny Olszewski who first won his current seat by a mere 17 votes, upsetting two strong frontrunners, Vicki Almond and state Sen. Jim Brochin. Further, US Representative Jamie Raskin is expected to run.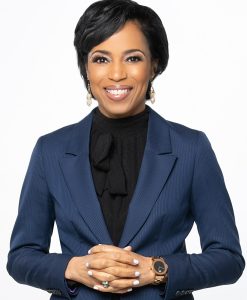 The next Maryland Primary is May 14, 2024. That leaves roughly a year or 12 months of campaigning and political maneuverings.
It will be interesting, for example, to see where Gov. Wes Moore stands on this race or if he will stand at all.
Clearly, Prince George's County played a significant role in his election. While Moore's campaign began in the single digits and he did not get the endorsement of the mainstream media, he catapulted past frontrunner Peter Franchot and then surpassed the mainstream candidate, Tom Perez.
Moore's victory was one of profound planning and maybe a touch of good fortune. Nonetheless, he handily won the Greater Baltimore Metropolitan area and Prince George's County and ultimately garnered 32.4% of the vote; Perez earned 30.1% and Franchot got a smaller 21.1%. Moore was the only candidate who had never run for public office. Moore led the field in the Primary earning 46.7% of the vote in Prince George's County in the Primary; 34.7% in Baltimore County; and 37.5% in Baltimore City. He easily beat all other candidates in these three key jurisdictions.
It will also be interesting to see where Congressman Kweisi Mfume stands in this race.
In 2006 when Mfume ran for US Senate, the Gov. Martin O'Malley administration was not very friendly to the Mfume camp. Neither was the late Maryland Senate President Thomas V. "Mike" Miller very supportive.
Maryland has never had a Black US Senator. This news outlet has been pushing this issue for years. In a 30% Black state where Black votes swing any election, a Black Senator is long overdue. It's common sense. It's basic math. It should have happened a long time ago.
With this backdrop, chances are, Mfume will certainly support Alsobrooks.
Maryland joined the union on April 28, 1788, as the 7th state. In 235 years of history, we finally have a chance at a politically viable Black candidate in the person of Alsobrooks.
This is thoroughly refreshing, especially given all of the sacrifices and challenges Blacks have had to endure and overcome just to be citizens. The State of Maryland has a poor record on the treatment of African Americans but consequently has nurtured some of the nation's greatest freedom fighters, including Harriet Tubman, Frederick Douglass, and US Supreme Court Justice Thurgood Marshall.
Black pundits have eyed this seat for a very long time. And this includes those in Baltimore.
Hence, the question becomes, who will capture Baltimore?
Can Alsobrooks, for instance, corral support from the Baltimore metro area? After all, she did attend the University of Maryland Law School in Baltimore from 1993 to 1996 and clerked for respected jurists in the community including Maryland Circuit Court Judge Donna Hill Staton in Howard County as well as William Quarles at the Baltimore City Circuit Court before joining the Prince George's County State's Attorney Office.
"It is going to be an interesting race," said political guru Ervin Reid. Originally from Baltimore, he has established a solid brand in the political world of Prince George's County. He is well-known for masterminding, or at least in part, the political ascension of Wayne Curry, the first Black county executive there.
Reid added, "Given the times, especially on a national level, this race will indeed be fascinating to watch. I think a lot more people understand that politics is a lot more important. Looking at the MAGA thing and how progress is not being made on Capitol Hill, I think people are paying attention. You are going to have some candidates throughout the state who are heavy hitters. Obviously, Angela is the exec of the largest voting bloc in the state. Trone, of course, has all of the money in the world. I saw something yesterday that said O'Malley is running. And you're going to have your fringe candidates like the Councilmember from Montgomery County who don't have the profile. All that to say it is going to be really interesting given the diversity of the field. The thing I love about Angela is that she is one of the hardest-working individuals you'll ever meet. She's super humble. And she's super intelligent. And the thing I like most about her is that her greatest fear is letting people down. So, she is going to be a great candidate and I think she is going to be the frontrunner."
To say the least, the Maryland Senate race is officially interesting. Baltimore, as always, is a cultural and media center for the state. Whoever invests the most time and resources in Baltimore wins, for as Baltimore goes – so, too, does the rest of the state (in my honest opinion). No, Baltimore City does not have the population, but we do have the biggest microphone. Anyway, that's my 2 cents for now.
Stay tuned to BMORENews.com, the news before the news where we uncover the truth!