Judge Vickie Gipson garnered 103k votes, more than any Black candidate in Anne Arundel
(ANNAPOLIS – November 26, 2022) – Tick. Tock. Tick. Tock. Some of the political pundits predicted a "red wave" and others had hoped for a "blue wave", what came instead was a "black wave" that changed the political complexion of Anne Arundel County politics. Here is one for the history books.
For the first time in Anne Arundel County history, voters ushered into office a new sheriff, register of wills, a judge on the Orphan's Court, and a new member of the Maryland General Assembly. What made this a "historic" event, they are all African Americans and they won their races with the support of white, black, and brown voters.
Sheriff-elect Everett Sesker, Judge
Vickie Gipson
,
Divaa DiVoice
aka Register of Wills-elect Erica Griswold, and Delegate-elect
Gary Simmons'
election changes the makeup of political power in Anne Arundel County.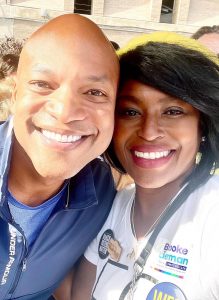 The election of Gary Simmons, Shaneka Henson, Sandy Bartlett, Joseline Pena Melnyk, and Mike Rogers means that the Maryland Legislative Black Caucus now will have 64 members, the largest Black Caucus in the nation.
The election of Erica Griswold means that Democrats now are in charge of the majority of the courthouse offices that includes the Clerk of the Court, Register of Wills, Orphans Court, and the office of Sheriff. The Anne Arundel County Republican Central Committee had authorized a very nasty campaign to oust Judge Gipson and in the end, every Republican candidate for Orphan judge including two incumbents lost their seats.
Judge Gipson was the highest vote-getter in that race, receiving more than 103,000 votes. In addition, she now must likely become the chief judge of that court. God is good.
Clearly, this did not happen by happenstance, coincidence, or accident, it came about because of the hard work of many people.
I want to take this opportunity to give a shoutout to
Nese Jones Oden
,
Antonio Palmer
,
Priscilla Monroe
,
Gloria Criss
,
Daryl Jones
,
Keywestlew Simlap
,
Thornell Jones
,
Todd Powell
,
Christine Davenport
,
DrBarbara A Palmer
,
Gloria Dent
,
Vincent Moulden
,
Dee Goodwyn
,
Jacqueline Allsup
,
John Dove Jr.
,
Courtney Buiniskis
,
Juanita Cage Lewis
,
Tryphenia A. Ellis-Johnson
,
Monica Lindsey
Linda Boyd
,
Claudia DeGrate
,
Elder Charles E James Sr.
,
Laurie Brittingham
,
Harvesting Justice
,
Angelina Brown
,
Anderson A. Jean
,
Andrea Horton
,
Josh Hatch
,
Nas Afi
,
Jimmy Spearman
,
Randy Curtis Jr.
, and many others.
I am aware of those who held fundraisers, donated money, organized "Souls to the Polls", and worked tirelessly in these campaigns. They made a difference.
A special thank you to those who contributed to the $6,000 ad that appeared in the Capital newspaper supporting these candidates and others. Because of that newspaper ad, Councilman-elect
Pete Smith
is returning to the Arundel Center. Governor-elect Wes Moore to the State House. Attorney General-elect Anthony Brown to Baltimore, and Brooke Lierman to the Comptroller's Office in Annapolis.
On December 13, 2022, at 5:00 p.m., we will celebrate the victory of not only these African American candidates but their allies as well.
Clearly, the "black wave" swept back into office County Executive
Steuart Pittman
, Councilwomen
Lisa Brannigan Rodvien
,
Allison M. Pickard
State Senators
Sarah Elfreth
,
Pam Beidle
, Delegate
Heather Bagnall
, Delegate-elect
Andrew Pruski
State Senator-elect Dawn Gile, and others. On December 13, 2022, at the Wiley H. Bates Legacy Center, 1101 Smithville Street, Annapolis, Maryland, the public is invited to attend the Caucus of African American Leaders monthly meeting. There will also be a holiday party and we will have vendors present. Again, for those who have wondered whether their vote matters? Ask the candidates and you will know the answer to that inquiry. Congratulations to all of the candidates. Now, it is time to implement the campaign promises. Promises made must be promises kept.
The Honorable Carl Snowden's name is synonymous with unapologetically Black political leadership and activism, beginning in Annapolis, MD – the capital of the great State of Maryland. His contribution to Black history and culture is unparalleled which makes us extremely proud to present anything from his desk. He was recently honored with a Lifetime Achievement Award from the business community. He is a state treasure who has fought his entire life on behalf of Black people. To say the least, he is a walking library.